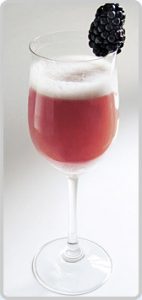 Ingredients
2.5 oz. Potocki Wódka
0.25 oz Pasteurized Egg White
3-4 Drops of Kaffir Lime Extract, A dash of Crème de Cassis
A few drops Angostura Bitters, 1/2 oz Lime Juice, A few drops Yuzu Juice, A dash of Simple Syrup, Yuzu Zest
Preparation
Combine all ingredients in shaker with ice, strain in to martini glass. Garnish with yuzu zest. Kaffir lime extract: Steep 5-6 Kafir lime leaves that in a small amount of vodka for 2-3 days.
History
First served at Aureole, New York in 2004. This cocktail is named after a short story written by Joseph Conrad, inspired by Polish patriot Prince Roman Sanguszko, grandfather of Jozef Potocki whose signature adorns every bottle.
Food Pairing
Pairs exceptionally well with foie gras.
Recipe by Ektoras Binikos, New York