GIN L'ARBRE – MEDITERRANEAN PREMIUM GIN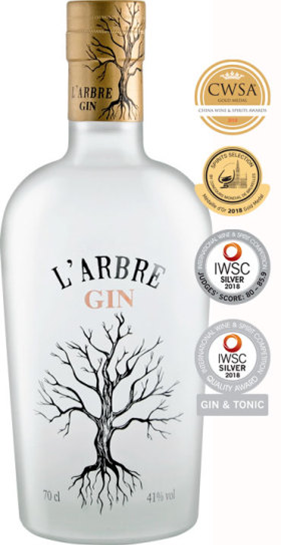 Gin L'Arbre is a London Dry Gin, made from Mediterranean botanicals.
"Gin L'Arbre is the result of the 63-year history of Teichenné Liquors, a company founded in Arboç (Tarragona).
An exceptional, balanced, aromatic, crystalline and fresh liquid content in a bottle of minimalist design that, in addition to expressing simplicity, time, joy and radiance, also conveys a very important emotional part by using the tree shape.
This captures the past, the foundations, the roots. The branches represent what is to come, the future. And, finally, all the experience lived and passed on over three generations is contained in the trunk. A unique gin to enjoy unique moments."
Tasting notes
Appearance: Colourless, bright, and transparent liquid.
Aroma: Fine and delicate aroma. On the nose, delicate fragrances evoke Mediterranean aromatic plants such as thyme, rosemary, basil, and lavender, among others. These fragrances blend perfectly with subtle citrus and distilled juniper notes.
Flavour: Elegant and subtle flavour. Soft and smooth in the mouth.
It blends perfectly with citrus fruit.
Main Botanicals: that make up the Premium Mediterranean gin:
· Juniper.
• Coriander.
• Lemon.
• Rosemary.
• Angelica root.
• Cardamom.
• Thyme.
• Basil.
• Lavender.
Gold medal awarded by China Wine & Spirits Awards (2018)
Gold medal awarded by Spirits Selection (2018)
Silver medal awarded by International Wine & Spirits Competition (2018)
Silver medal in "Gin&Tonic" category awarded by International Wine & Spirits Competition (2018)
Silver medal awarded by IDMA – Spirits Artwork and Bottle Design (2018)
Silver medal by Berlín International Spirits Competition (2019)
Gold medal by Concours International de Lyon (2019)
Silver medal by London Spirits Compretition (2019)
BCLD SPEC
SKU   +69615
700ml, 6 bottles/case