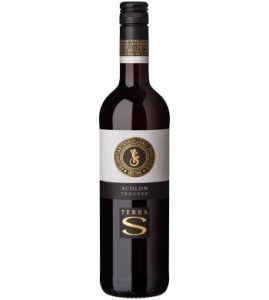 ACOLON TERRA S
Vintage: 2014
Grape: Acolon
Alcohol content: 12.50 % vol.
Serving temperature: 16 – 18°C
Residual sugar: 6.10 g/l
Total acidity: 4.50 g/l

Serving suggestions:Excellently paired with dark meat and venison dishes.
TASTING NOTES:The harmonious dry wines of the Terra S Edition are characterized by vitality, fresh fruit and clearer stylistics. Spicy fruit flavors of wild berries combine with soft, round tannins to create a balanced, powerful red wine. Acolon presents as a deep red wine with blue pigments.

BCLD SPEC
SKU 951061
750ML, 6 bottles/case