LEVEL GIN PREMIUM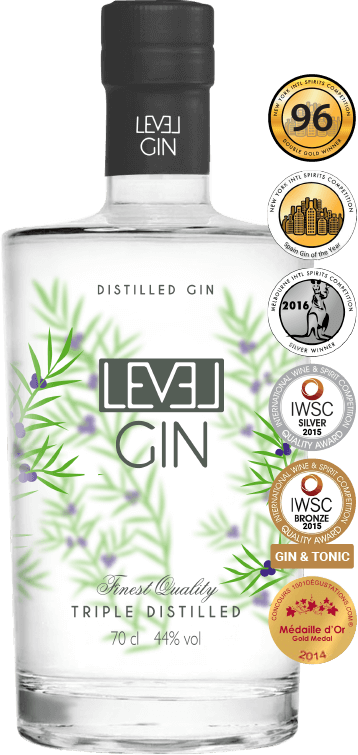 Level Gin is a triple distilled gin, 44% Vol. Made from wheat alcohol in which juniper is macerated and distilled in combination with different botanicals, principally cardamom, orange blossom and grapefruit.Level Gin is a highly aromatic gin in which a floral aroma predominates, combining perfectly with the juniper. An elegant, crisp palate brings out the essential features of a good gin, to be drunk neat or with mixers.
Tasting note:
Appearance: Colorless, bright and transparent liquid.
Aroma: Very aromatic gin, with a predominantly floral aroma that combines perfectly with the juniper.
Taste: Elegant and fresh on the palate, it enhances the essential characteristics of a good gin that can be drunk neat or mixed in cocktails.
Main botanicals that make up Mediterranean Premium Gin:
Juniper
Coriander
Lemon
Orange
Angelica root
Cardamom
Grapefruit
Orange blossom
Level Gin Premium has been awarded at:
Double-Gold medal in NewYork International Spirits Competion 2019
Spain Gin of the year 2019
Silver Medal in Melbourne International Spirits Competition (2016)
Silver Medal in International Wine & Spirits Competition (2015)
Bronze medal category "Gin&Tonic" International Wine & Spirits Competition (2015)
Gold medal in 1001degustations (France 2014)
BCLD SPEC
SKU    +69603
750ml, 6 bottles/case