SACRED GIN MIXED PACK
Contains one 750 ML bottle of each of our wonderful gins to give you the opportunity to try and taste.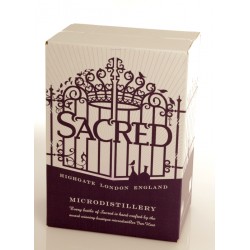 JUNIPER GIN: Distilled with Juniper lovers in mind, this Juniper focused gin can be served as the ultimate gin and tonic or to elevate the character of any gin-based cocktail.
PINK GRAPEFRUIT GIN: Zesty notes of Pink Grapefruit, made using the whole fruit, including peel, juice and pips. Perfect in a Pink Gin.
CORIANDER GIN: A spicy classic gin with dominant notes of Indian Coriander seeds to create a unique dry spirit with an uplifting and aromatic bouquet.
CARDAMOM GIN: An exuberant expression of that most aromatic of spices, green cardamom pods. A great second shot in a double G&T.
ORRIS GIN: A floral, violet scented gin with dominant notes of Italian Orris root. Perfect with citrus – we like a Breakfast Martini or an Aviation.
LICORICE GIN: A sweet gin dominated by distilled licorice root – the key ingredient of an Old Tom Gin. Use generously to fine tune a gin's sweetness.
BCLD SPEC + 755454
All bottle are 750 ml
43.8% ABV