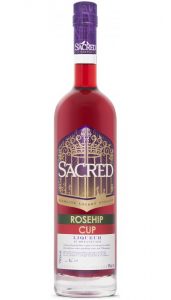 SACRED ROSEHIP CUP
Is a dark red, fruity and gently bitter cordial to be used as an English alternative to Campari, although it is fruiter and slightly less bitter – and rated more complex by many tasters. It has English rosehips for fruitiness, fresh squeezed organic English rhubarb juice for acidity and macerated gentian root for bitterness, plus 24 other botanicals sourced from around the world. Most of which are organic, and no artificial colourings or flavours are used. It can be enjoyed in cocktails, such as the Negroni, or with Champagne and sparkling wines, or with soda or lemonade for a longer drink.
Tasting note: Cranberry-like red berry fruit, floral geranium and herbal spice with bark and rooty bitterness. Very fruity compared to a Campari with even greater complexity.
Aftertaste: moderately bitter, tart fruit finish. It was awarded a 5+ out of 5 by Diffords guide.
BCLD SPEC
SKU 502849
750ml, 6 bottles/case