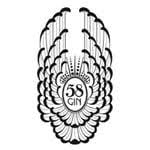 Pink Apple and Hibiscus Gin
Though all our Cox's apples are waste or surplus, they're always fresh, sweet and crisp. Mixed into the botanical basket with a sprinkling of bitter hibiscus flowers, they create a perfectly balanced artisan pink gin that's every bit as smooth and premium as its parent, London Dry Gin.
Distilled with sustainably sourced Apples and no artificial ingredients. Natural sweet and sour notes from the Apples and Hibiscus flowers. A proper craft Pink unlike most others that are more liqueurs rather than Gins.Turns a light Rose colour when mixed with tonic.
11 Select Botanicals: Juniper, Coriander Seed, Angelica Root, Orris Root, Cubeb Pepper, Egyptian Lemon, Pink Grapefruit, Bergamot, Vanilla, British Apples, Hibiscus
Palate: Fresh Apple, soft spice and delicate citrus.
Finish: Smooth, floral and slightly dry.
ABV 43%
BCLD SPEC
SKU +418869
700ML, 6 bottles/case