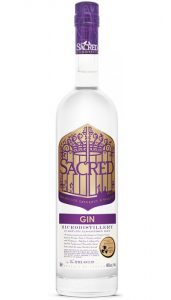 SACRED GIN
Double Gold Medal winner at the San Francisco World Spirits Competition 2013.
All the botanicals, including whole fresh-cut citrus and frankincense, are distilled separately in glassware under vacuum so that distillation occurs at a much lower temperature than traditional pot stills. This produces fresher, lusher distillates which are then blended to create Sacred Gin, a fresh, creamy, superbly balanced London Dry Gin like no other.
Tasting note: Crystal clear. Lush, pine-fresh juniper nose, delicate violet flowers, crushed cardamom pods and cinnamon. Long zesty finish with lingering pine and peppercorns.
AVAILABLE IN BOTH BC AND ONTARIO
750ML, 43.8% ABV
BCLD SPEC
SKU+048694
750ml, 6 bottles/case
LCBO #365527