SACRED GIN and VODKA MIXED PACK
Contains Two 750 ML bottle of each of Sacred Gin and London Dry Vodka and 700ML Organic Vodka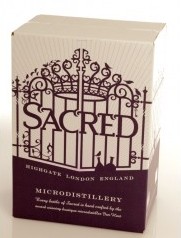 SACRED GIN:
Flavoured with 12 botanicals, including frankincense. Distilled under vacuum to create a fresher, lusher London Dry Gin, unlike any other.
Awarded Double Gold Medal by San Francisco World Spirits Competition 2013
Tasting note: Crystal clear. Lush, pine-fresh juniper-led nose with delicate violet flowers, crushed cardamom pods and cinnamon. Long zesty finish with lingering pine and peppercorns.
SACRED LONDON DRY VODKA:
Re-distilled with seven botanicals including nutmeg, cubeb and frankincense. Gold Medal Winner, Drinks Business 2010. Voted favourite vodka by Channel 4's Sunday Brunch and a best-seller in the United States.
Tasting note: Crystal clear. Clean delicately spicy nose with faint aromas of fennel, nuts, dill and aniseed. Superbly balanced, delicate palate.
SACRED ORGANIC VODKA:
A simple blend of the finest organic wheat and rye spirit. Ideal to blend with organic tomato juice for the purest Bloody Mary. Gold Medal Winner, Drinks Business 2010.
BCLD SPEC + 847301
2 each of Sacred Gin and London Dry Vodka 750 ML
2 each of Organic Vodka 700ML