"Evento Rosè" Spumante Extra Dry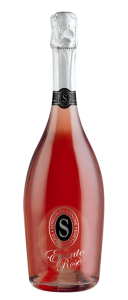 Grape: 100% Merlot
Vineyard location: Loncon di Annone Veneto
Growing method: Sylvoz
Name: Evento Rose' Spumante Extra dry
Alcohol content: 11.00 % vol.
Residual sugar: 14.00 g/l
Total acidity: 5.40 g/l
Serving temperature: 8 – 10°C
Avaible size: Bottle of 750 ml
Serving suggestions: Ideal partner for aperitif and throughout the meal, perfect accompaniment with fish cruditè.
TASTING NOTES:This wine strikes the eye for its hues of rose petals. Its bouquet is delicate and at the same time complex, with a light hint of walnut husk. Well balanced in acidity and sugar contents, it reveals a particularly intense, harmonious, markedly lingering flavour.
BCLD SPEC
SKU 115340
750ml, 6 bottles/case
Awards
Bronze Medal
CHALLENGE MILLESIME BIO 2014
Gold Medal
CHALLENGE MILLESIME BIO 2015
Gold Medal
CONCORSO ENOLOGICO LONCON 2015