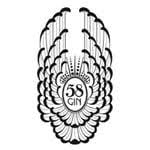 English Berry (Distilled Sloe Berry Gin)
Made with the same skill and care as our London Dry gin, we macerate foraged sloe berries for six months before adding them to the distillation process itself, creating a full-bodied berry kick in a gin that's still crystal clear.
Nose: Ripe Plum and Damson, Orange Blossom and soft Raspberry.
Palate: A melt-in-the-mouth mix of Blackforest Gateau, deep Cherry and fresh fruit with gentle spice.
Finish: Smooth soft Vanilla and citrus.