POTOCKI CLUBLAND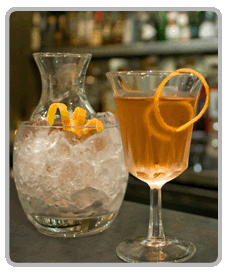 Ingredients
35 ml Potocki Wódka
35 ml White Port
1-2 dashes of Angostura Bitters
Preparation
Combine all ingredients and stir with ice. Double strain in to a champagne coupe. If desired, garnish with lemon or grapefruit zest.
Notes
Choose a white port with medium sweetness for best results.
Food Pairing
Works well as an aperitif stand alone or with savoury canapés.
History
First served in 2010 at Baltic Restaurant in London. The original recipe dates back to 1937 and the influential Café Royal Cocktail Book, a collection of recipes originally published by the United Kingdom Bartenders Guild. The Clubland is one of the rare recipes in the book containing vodka, and therefore seen as highly innovative for the period.
Recipe by Robert Zajaczkowski, London