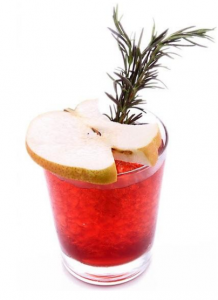 Ingredients
90 ml Potocki Wódka
45 ml Honey Bitters
10ml Unfiltered Apple Juice
10 ml Fresh Lime Juice
One Quarter Red Apple
Eight Red Grapes
Three Springs of Fresh Rosemary
Preparation
Add all the ingredients into Boston shaker and muddle. Shake well with ice. Double strain into the chilled tumbler glass with crushed ice. Garnish with slice of apple and sprig of rosemary.
Honey Bitters: Mix 30ml honey, 15 ml bitters, and 45 ml cold water.
Food Pairing
Well suited to any kind of fried meat in Chinese cuisine, such as sweet & sour pork, or General Tso's chicken.
Recipe by Aki Wang, Taipei
---