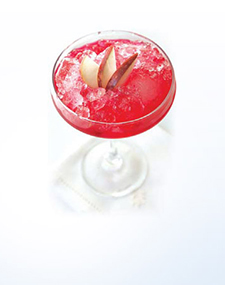 Ingredients
2 oz. Potocki Wódka
1 oz. Fresh Apple Juice
1/2 oz. Organic Beet Root Juice
1/4 oz. Caraway Tea
Preparation
Combine ingredients in mixing glass. Add ice, shake well and strain into chilled cocktail glass. Garnish with apple fan.
Caraway Tea: Steep one tablespoon of caraway seed in 4 oz. hot water for 10-15 minutes. Fine strain and refrigerate (will keep for 1-2 weeks).
History
This cocktail was first served at the 100th anniversary celebration of the Polish Consulate building, New York 2006.
Food Pairing
This modern cocktail will be delicious to sip before as an aperitif but will also provide a tasty contrast for smoked meats and sausages.
Recipe by Jerri Banks, New York